Quail Hollow - the "K", "Z", and "LL" Sections
Neighborhood of Palm Coast
Quail Hollow is a large and beautiful community off the beaten track, south of Highway 100. Although the many streets of the "K", "Z", and "LL" Sections are situated within undeveloped parcels of land, about two miles east are the Flagler County Airport, Target Shopping Center, Flagler Hospital, and Flagler Palm Coast High School. This part of Palm Coast appeals to those who would like to live a little farther out from the hustle and bustle, but also want access to the city's many offerings.
Bordering U.S. Route 1, Quail Hollow is one of Palm Coast's best kept secrets; it offers home sites that make quick trips to Ormond or Daytona Beach even quicker. With so much open land surrounding Quail Hollow, and the East Coast Railroad softly going by each day, residents of these sections may as well be living in the old Florida countryside. If what you seek is natural beauty and a sense of serenity, you should explore this unique community of Palm Coast. If you like to play golf, the Gary Player-designed course is located in Cypress Knoll, only just a little north of Quail Hollow.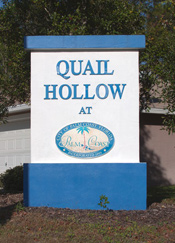 If you would like to see Quail Hollow for yourself, you can access the "K" Section from U.S. Route 1 south of Bunnell or enter in through the "Z" Section off Belle Terre Parkway south of Highway 100. Belle Terre Parkway is the main road through all of Quail Hollow.
As one of the most affordable neighborhoods in Palm Coast with waterfront lots, Quail Hollow has a lot to offer anyone who enjoys a peaceful water view. Please contact the Tofal Team if you are interested, and please feel free to use our site to browse current homes for sale in Quail Hollow.